Imagine, folks – the future! Picture a world where we don't see any of those big antennae hanging off the side of our neighbor's homes, because they pay $7.99/month for commercial-free digital services instead. Our cell phones are hardly phones, more like little tiny computers capable of everything from doing taxes to recording music. In this future, cars plug into walls and utilize electricity over fossil fuels. And on the airwaves inside those cars? Those funny FM radio morning shows with wacky hosts, (mostly) gone. Those annoying, fast-talking advertisements popping up every ten minutes during your favorite sports radio show, gone. Non-curated playlists, pumping the same ten songs on repeat? GONE! Well ladies and gentlemen, let me let you in on a little secret – that future is now!
Look, its normal to wish things would stay the same.  All of us hate change. But some change can be good! Technology has allowed us to have the world at our fingertips, and that means the slow death of our old friend, traditional radio. Spotify/Apple Music/Tidal (anyone know anyone using Tidal? No? Cool) provide endless playlists and music freedom, and their technological cousin, podcasts, match their boundless content. If you're not on the podcast train yet, its time to hop aboard. Its hard to describe what exactly a podcast is but, basically, they're little episodes of radio shows. However, unlike conventional radio of old, podcasts can be downloaded and played anywhere at any time. Podcast are mostly independent as well, free of the FCC restrictions placed on normal FM/AM/television shows. They're free (mostly, for now), easy to digest and one of the most exciting/creative forms of entertainment in today's world. But there's a lot of nonsense out there in the podcast universe, and, like always, Everything Doesn't Suck has come to the rescue. Below, I've broke down some of my favorite podcasts out right now. Enjoy!
Serial
Category: Investigative Journalism
Serial was the talk of the town for a solid month or two upon its debut back in 2014, and for good reason. Developed by the same folks behind the equally-great This American Life, Serial examines unresolved crimes/situations by peeling back all of the layers involved in the stories. Journalist Sarah Koenig dives deep into the stories, interviewing everybody involved to paint the most accurate, objective picture. So far there have been two seasons, the first installment being far superior with its examination of a controversial homicide conviction. Regardless, both seasons are fantastic bits of suspenseful, insightful journalism.
The Bill Simmons Podcast
Category: Sports/Pop Culture
The former ESPN/HBO super-writer was an early adopter of the podcast medium and always seems to be near the top of the popularity charts. After his exile from ESPN, Simmons quickly established his own multi-media network, "The Ringer," which boasts a growing network of sports/pop-culture shows, including, of course, The Bill Simmons Podcast. Being a huge Boston fan, his homer-ism can definitely be off-putting at times, but Simmons has undeniably mastered the art of the podcast. Episodes typically consist of long-ranging, candid conversations with top-flight names in the sports world such as Kevin Durant, John McEnroe, and Bob Costas. Simmons also uses his clout to bring in people like Bryan Cranston, Jake Gyllenhaal and other non-sports personalities, often times just running through each guest's filmography as they break down different projects and share stories. Its good stuff, if you can get past the Boston BS (no pun intended).
KEXP Song of the Day
Category: Music
Seattle's KEXP is, undoubtedly, the best radio station for independent music in our great nation, and they've done a tremendous job of transitioning to the digital future.. Fans of indie music will enjoy their Song of the Day podcast, as each morning the station simply posts a new track for listeners. No chatter, no background info, just the artist and song title. Do I like every song they post? Certainly not, but I've discovered some really cool stuff that I never would've come across in my own musical expeditions.
WTF with Marc Maron
Category: Interview, Pop Culture
My introduction to podcasts was with Marc Maron's terrific WTF back in my first couple years in college, and it remains my favorite to this day. The comedian found modest success in the stand-up circuit over the past couple decades but finally found his niche in the podcasting world. WTF features Maron hosting celebrities and guests from all walks of life (film, comedy, writing, politics, music, anything) for extensive conversations in his garage. Will Ferrell, Barack Obama, Bruce Springsteen – you name 'em, I'm sure they've been one of the 877 guests on his show so far. The best part of WTF is Maron's ability to trace each guest's background, highlighting the seminal moments of their upbringing/career, leaving listeners with a true sense of familiarity with some of our heroes.
Pardon My Take
Category: Sports
Say what you will about the rising media behemoth Barstool Sports – they certainly know how to keep people entertained. Pardon My Take features two of Barstool's more animated personalities, Daniel "Big Cat" Katz and the enigmatic "PFT Commenter." The show airs three times per week, with each episode featuring a half-hour interview with a big name athlete or sports media member, sandwiched between the duo trading satirical takes on current sports topics. The hosts do a great job of getting our favorite athletes/coaches to open up, my personal favorite shtick being when they ask the interviewees if they will call the most famous person in their cell phone on-air. I would not consider myself a "Stoolie" by any stretch, but I've been a fan of PMT since its inception a couple years ago. If you are a sports fan between ages 14 and 35, you likely already subscribe and listen to this one all the time. If not, enjoy.
How Did This Get Made?
Category: Film
I love bad movies. For real, irony aside, I truly appreciate movies that suck. I perk up when I see a Grown Ups 2 or Transformers when scrolling through the channel guide on a lazy Sunday afternoon. If you share my affinity for such films, check out How Did This Get Made? hosted by comedians Paul Scheer, June Diane Raphael, and Jason Mantzoukas. The trio is joined by a guest comedian each episode to break down a different bad movie, roasting the plot points/acting/writing or whatever makes the movie so awesomely shitty. Be forewarned, however, that the "live" episodes can be a little much sometimes, so stick to the early episodes recorded in the studio if possible.
S-Town
Category: Investigative Journalism
Born in the same ilk as Serial & This American Life is another investigative journalism show, S-Town. S-Town is produced by the same people, and like Serial, host Brian Reed investigates an alleged murder in a small Alabama town. Along the way, Reed uncovers a variety of characters and unforeseen drama, all documented in the sublime seven-part series. S-Town was critically acclaimed and set a record for most downloads in one week.
The Joe Rogan Experience
Category: Interview, Pop Culture
Stand-up comedian, UFC commentator and former host of Fear Factor (lol) has reinvented himself as one of the best podcasters around, exemplified on the wonderful The Joe Rogan Experience.  Joe Rogan helped set the precedent for podcast talk shows, taking listeners on free-flowing conversations with guests from a variety of different backgrounds. Sure, they can be a bit long (most clock in around three hours), but the dialogue always is supremely engaging and informative. Some of my favorites include a chat with former NFL player Arian Foster about the downside of college athletics and football in general (Episode #928), a stoned conversation with Blue Collar Comedy legend Ron White (#888), and a candid discussion with disgraced cyclist Lance Armstrong (#737).
Rolling Stone Music Now
Category: Music
Each week Rolling Stone writer Brian Hiatt hosts a podcast for the magazine, typically touching on current topics in the music world. Hiatt is often joined by fellow music writers and Rolling Stone editors to discuss trends in music or recent releases/news generating buzz. Usually just around 30-40 minutes in length, it's a nice easy listen and perfect for music nerds everywhere.
The Adam Carolla Show
Category: Interview, Pop Culture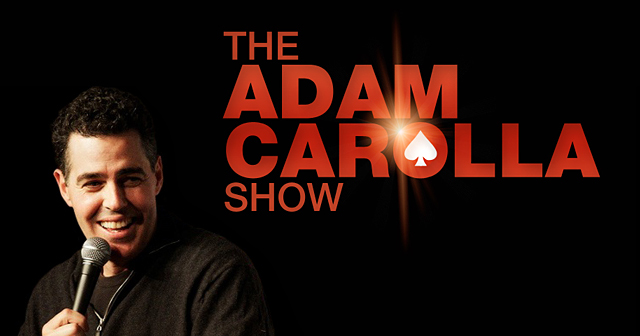 Another podcast pioneer is comedian Adam Carolla, who has been hosting his own show since 2009. A former 'terrestrial' radio host (and co-host of The Man Show with Jimmy Kimmel – talk about a show that would NOT hold up in 2018) for years at LA's KROQ, Carolla became one of the first big names to start a show on the podcast format, and remains among the most downloaded shows on ITunes. Formatted like a traditional radio show of old, Carolla's unique observations, high profile guests and general gift of gab make this one worth listening to on morning/afternoon commutes.
Happy listening!
Photo Credits: The Ringer, Podcastone , Sticher, Podbean, iTunes, Earwolf, IFC, Podtail, BBC