It happened again… I vowed to never again go a full four days, yet here I am chugging water and blasting Lollapalooza playlists on Spotify in anticipation of this weekend's big event. Look, I think there will be a day where my FOMO will subside, when the rigors of going to a music festival for four straight days will just be too much for my old, beat-down body. But that's not this year. And probably won't be next year. Let's face it – Lollapalooza is just fun. Doesn't really matter what the lineup looks like or if rain is on the radar, it wouldn't be the start of August in Chicago without a trip to Grant Park for one of the finest festivals in our great nation. And like last year, if this weekend crept up on you out of nowhere like it did for me, I've come to the rescue to provide another comprehensive guide to Lollapalooza. Take a gander below my friends!
"Nice To See You Again"
Vampire Weekend (SAT) – Ezra Koenig + crew have been relatively out of the spotlight since their latest album, 2013's Modern Vampires of the City, and fans will eagerly pack Grant Park for a chance to hear the group's glorious return on Saturday. Since they burst onto the scene 10 years ago, Vampire Weekend's quirky brand of arty indie rock has been a mainstay of modern music playlists. Founding member and key contributor Rostam Batmanglij left the group a few years back, so don't be surprised to see some star-studded guests fill the void on vocals/guitar/keys during the show.
Jack White (SUN) – Living legend Jack White will take his signature modern-blues sound to Lolla for a Sunday night closing set at the monstrous Grant Park stage. Sunday will mark his second headlining appearance at the festival as a solo act, and first since 2012. The forecast calls for a healthy mixture of new tunes from this year's solo album Boarding House Reach, along with plenty of the older stadium-friendly favorites.
Manchester Orchestra (SUN) – Don't look now but Manchester Orchestra has officially been a popular band for over a decade now. These guys seem like the type of group that will be playing at Lollapalooza again five years from now, and have amassed a sneaky amount of quality singles over the years that will be on display for this one. I saw Manchester Orchestra at Bonnaroo in 2010 and was blown away by their energetic set (whether that was due to me being a 

naïve

18 year-old at one of the bigger party environments in the world, or the fact that the band featured two drummers playing in perfect unison, I'm not sure… ). Andy Hull is a rock-solid songwriter and I'll be there Sunday for round two.
A R I Z O N A (SAT)  – Hmm, seems like they were JUST at Lolla right? Well that's because they were. Last year in fact. A R I Z O N A will make a rare back-to-back appearance after experiencing a wildly successful year thanks to 2017's debut LP GALLERY. The group's dynamic sound has allowed them to be popular in electronic, pop and indie circles, and the band should expect a much larger crowd than found at last year's set at the small, secluded Tito's Handmade Vodka Stage.
Franz Ferdinand (THURS)  – "Take Me Out" will forever be known as a certified anthem of the 2000's, but don't you dare peg the Scottish group as a one-hit-wonder! Franz Ferdinand has racked up several Grammy nominations in their storied history, and have experienced MASSIVE popularity thanks to their unique blend of dance and garage rock. Given their global popularity, the 4:45pm start time on Thursday is a bit of a head scratcher, but I anticipate more than a few 30-year olds sneaking away from their desks down the street for this one.
Honorable mention – LL COOL J (SAT), The National (FRI), Gucci Mane (SUN)
"Who are These Guys?"
Knox Fortune (SUN) – Everyone loves a hometown hero! Knox Fortune comes from the Chance the Rapper family tree, and lent his vocals to Chicago's favorite son on his now-legendary Coloring Book. But the Oak Park singer/producer has established himself as a burgeoning star in his own right, and will own the Grove Sunday afternoon with his dance-y, laid-back tunes.
Pale Waves (SAT) – The English rockers experienced somewhat of a breakthrough with their EP All the Things I Never Said earlier this year, and have made the rounds on the festival circuit in advance of their full-length debut in September. Heather Baron-Gracie is the group's electrifying leader, and will certainly be a crowd favorite for the weekend.
Wallows (SAT)  – Wallows seemed primed for a breakout, and no better spot to scoop up some extra fans than a nice little Lollapalooza set. The SoCal trio were recently signed to Atlantic Records (yes, people – "major" record labels are still a thing. Who knew!) and have the skill and charisma to be a band with some staying power for years to come. I'll be there for their 12:15pm set on Saturday.
BROCKHAMPTON (FRI) – The self-described "boy band" has picked up palpable amounts of momentum over the past couple years, and should bring plenty of energy during their set on Friday. The hip-hip outfit cancelled some festival spots earlier in the Summer due to sexual misconduct allegations against former group member Ameer Vann, so fans should expect the 10+ person group to bring their A-game.
Cigarettes After Sex (SUN) – I'm a massive, massive fan of these guys. Will their subdued, soporific sound translate to a festival-sized setting? Uh, yes it will. For sure. Greg Gonzalez' melancholic vocals and hypnotic guitar melodies create a perfect atmosphere for a quick breather and recharge of the metaphorical batteries.
Honorable Mention – Rex Orange County (SUN), Jungle (FRI), Superorganism (SUN)
Hype Machine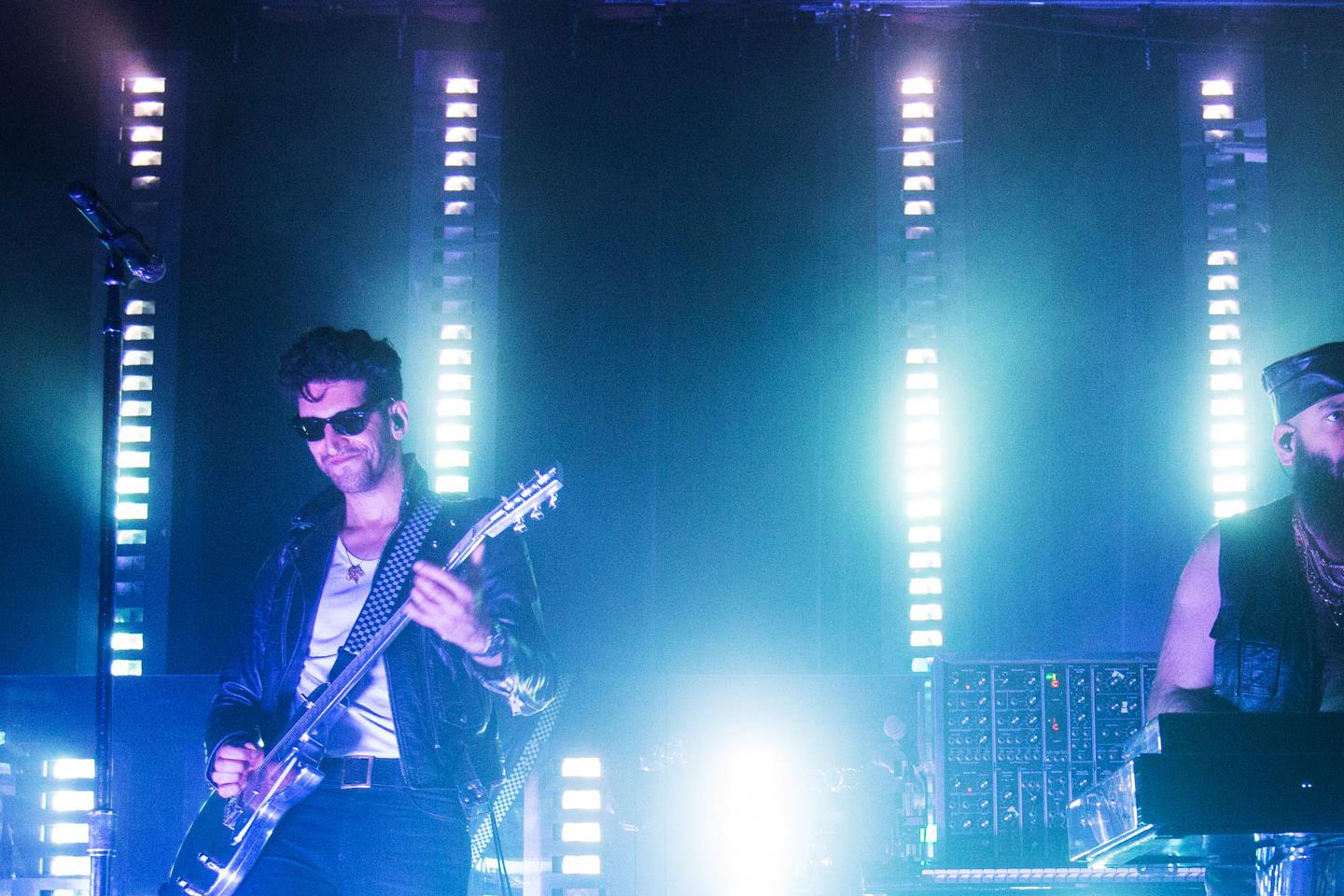 Chromeo (SUN) – Don't leave your dancing shoes at home for this one folks, these guys are groovy. Synthesizers, lasers, drum machines, funky rhythms – you name it, they got it. Go ahead and pencil in the duo as having a top-10 set of the weekend.
Dillon Francis (FRI) – Does this guy ever stop touring? How many festivals has he played this summer alone? This dude is EVERYWHERE. I likely won't be in attendance for this one, I've been to my fair share of Dillon Francis shows over the years, and I can confirm – the guy knows how to throw a party.
Greta Van Fleet (FRI) – AKA Lil Led Zeppelin. The youngsters have embraced the 1970's rock star image to the fullest, and will bring that old-school energy to the stage this weekend. While I'm not the biggest fan of the group's album, I fully anticipate a change in perception after seeing them live at the Grove.
Troyboi (SUN) – It's been fun to see Troyboi's rise from talented SoundCloud DJ to a tour-de-force and festival mainstay over the past few years. I'm a little out of touch with the electronic music scene these days, but you'd be hard pressed to find a better DJ at Perry's this weekend. Hype machine indeed!
Travis Scott (THURS) – Must be awesome to be a famous rapper. Not sure there are many other careers where you could get arrested for inciting a riot while on the job, yet get invited back for an expanded role at the same place three years later. Perry Ferrell must be a very forgiving boss! And I'm not expecting Travis to be on his best behavior Thursday night either – prepare for a tremendously rowdy set here ahead of his much-anticipated Astroworld, which will be released the following day.
Honorable Mention – Big Wild (FRI), Lil Uzi Vert (SUN), What So Not (SUN)
The A-Team
The Weeknd (SAT) – Music megastar The Weeknd has come a lonnnnng way since his days as a mysterious Internet wonder-kid. The Canadian crooner has become a household name over the past few years, in part thanks to a bevvy of smash hits and that ridiculous/amazing haircut. I'm thinking about going to my barber on Wednesday night and asking for the same – think my boss will care?
ODESZA (SUN) – The Seattle duo are among the more popular electronic acts in the world right now, due to last year's meteoric A Moment Apart. Seemingly always on the road, these guys have made plenty of appearances in the Windy City over the past couple years and have no shortage of fans here in the Chi. Expect a guest or two and an incredible light show if you chose to close out the weekend with this dudes.
Tycho (THURS) – Look, I get it. Most of you are going to Lollapalooza Thursday to see either Arctic Monkeys or Travis Scott, so it's not exactly in the cards to see these guys at the Grove instead. But to any readers out there looking to avoid a crowd or get lost with some beautifully dreamy, soundscape-y tunes, give Tycho a whirl Thursday night. Or, you can join me for the pre-show Wednesday night at the Concord like a smart person and get the best of both worlds!
Arctic Monkeys (THURS) – It's hard to think of many better indie artists over the past decade than Arctic Monkeys. Each of the group's five albums is more ambitious than the next, and thanks to those acclaimed records, the group has stockpiled an impressive catalogue over the years. Alex Turner & the boys will surely seize the moment Thursday night.
Portugal. The Man (SUN) – EverythingDoesntSuck all-stars Portugal. The Man have had a whirlwind of a year. The group's "Feel It Still" transformed the band from indie kings of the Pacific Northwest to international stars. I've always been a big fan, and genuinely love the fact that they've blown up and achieved widespread popularity. They're an amazing, tight-knit band and concertgoers should prepare for a doozy.
Honorable Mention – Lykke Li (SUN), Bruno Mars (FRI), St. Vincent (SAT)
Tips
Use the North entrance – Always the move, in my experience. Much shorter, more organized line. Although the new policy on bags should theoretically speed up the ticketing process rather quickly this year. Right…?
"Tune Squad" Game – Fun little game my friends and I started last year. Count the amount of people rocking "Tune Squad" basketball jerseys from Space Jam. Throw in Micheal Jordan Bulls jerseys and you'll be occupied all day. New wager that I'm forcing my friends to abide by this year: loser has to buy one and wear it next year.
Travel in small packs – Lollapalooza is fantastic event to attend with a group of friends. Nothing better than jamming out and drunkenly screaming out song lyrics surrounded by your best friends. Conversely, there is nothing worse than being part of a 12-person caravan at a festival like this, with the stages being so far apart and volume of people. Everyone needs drinks at different times, this person wants to see this artist, that person's little brother loves to be up front. It gets messy. Find one or two friends to hang with each day and let others do the same. You'll still end up seeing everybody at different shows, and allows for more freedom and flexibility
The "Grove" – I'll say it once and I'll say it again – best stage by far. I don't care which sponsor gets naming rights each year (it's American Eagle this year, FYI), it is simply a terrific place to see a live set. Tucked in between a heavily wooded area in the Northwest corner of the park, never a mistake to hit the Grove for a show or two each day.
That's all I got, see you hooligans out there! Be safe!
Photo Credits: Teen Vogue, Pitchfork, Blurred Culture, Viagogo.com, Vancouver Weekly, Michigan Avenue Magazine